Looking for an Out of This World Party Idea?
Looking for a Girls Night Out, Bachelorette Party, Private Party or any special event, or just a private gathering? Our parties and events are designed to provide you the experience you are seeking....read more below...
Two Great Choices for Your Next Event!
Our "Live" Parties
See Below


The Exotic Party On DVD
Party Highlights
Details of what an AOED party is like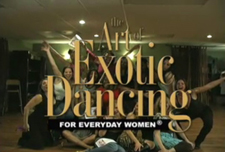 Click here to watch the video!
Party Information
Discover the possibilities for your next event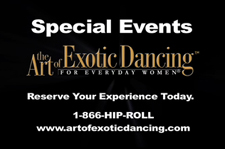 Click here to watch the video!
AOED Party
As Seen on
Entertainment Tonight!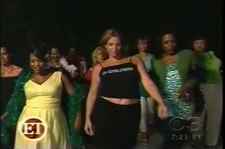 Click here to watch the video!

Turn Any Event Into An EXOTIC PARTY!

The newest trend in girls' night out is a private exotic dance class party for you and your girlfriends. Whether it's to teach some new moves, celebrate a milestone, next chapter in a woman's life or just because girls want to have fun, this great twist on a girlfriend get-together is an experience that you'll never forget.

Exotic Parties are designed to be fun-filled events that bring a group of women together to share a common, fun and female experience. Everyone will love this unique event and the event planner will receive kudos for finding an edgy, fun and unforgettable experience. Whether it is to have some sexy fun, delve deeper into your sensuality or spend some quality time with friends, your exotic dancing special event will be an unforgettable experience.

Private Events can also be a wonderful, soulful and fun way to re-connect with yourself and/or your girlfriends. A fun & sexy way to liven up the typical party such as, Bachelorette, Birthday, Bridal Shower and Girl's Night Out. It's also a great means to provide a positive, uplifting activity for Cancer Survivors, Mom's Groups, Retreats, Corporate Events, Farewell Sendoff's. Any event can be an Exotic Party…even greater fun for Holidays and In-Home-Party's and much more…


The CoreMoves Party
Your memorable night will include Exotic Dance moves taught in the Art of Exotic Dancing for Everyday Women Workshops. You and your friends will learn sensual movements tailored to every level.


The Develop Your Moves Party
Feeling more advanced in your exotic dance movement? The DYM party is perfect for those who already know how to dance and want to take things to the next level. Whether its learning more advanced moves, learning how to flow your dance together or adding in fun items this is the party for you.


The ChairMoves Party
If you ever wanted to explore Pole Dancing then the Chair Experience is perfect for you. Everyday Women don't have poles but everyone has a chair! Learn to use the chair as a prop, and how to sensually incorporate this household item into your sensual life. You may never sit down the same way again!

Your AOED Certified Instructor will guide you and your girlfriends as you learn the secrets taught for centuries by professional Exotic Dancers. The guest of honor receives special treatment and everyone will leave with their own unique dance moves.