The Circle > Meet the Women > Molly
Molly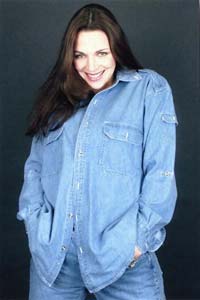 Year of Birth: 1962
Place: Bloomfield Hills, Michigan
Hobbies & Interests:
My kids, Greyhound Rescue and Adoption, Pet therapy, Yoga...and of course, Exotic Dancing.... ;-)
Favorites:
Movie: Anything romantic, old is preferable
Food: Pizza, Mexican, Thai, anything spicy
Place: Moody Beach, Maine
Color: Blue
Why did you originally take the "Art of Exotic Dancing" class?
Why did I originally take the class? At 36, I found myself very much in the "mom" mode. Although my children give me great joy and purpose, I felt as though a part of me was getting lost in the shuffle. People referred to me as "so-in-so's Mom", or "Bob's wife" and that had me wanting to define "me" more clearly. So, I took a deep breath, pierced my navel and looked through The Learning Studio's catalog to see what class struck my fancy! Out from the pages of this catalog, jumped "Exotic Dancing 101, a Learning Studio sellout!". Figuring this would be a unique way to spice up my marriage (and get me out of the house for a few nights!), I dialed the phone. I asked the pertinent questions about what would be expected of me… like, "do I have to be young and in good shape", "What do I wear?" and a bunch of other unsure, nervous questions. I was assured that I would love it and that my physical shape had NOTHING to do with the class. So I signed up and anxiously waited for the classes to start.
The class itself was very scary at first. We were these conservative, "normal" women taking a class that was in no way "ordinary". A class created from a taboo topic that makes a lot of people uneasy. So you can imagine this group of women, all ages, all sizes, all walks of life, all strangers, looking petrified. Then the instructor bounded in, with a smile, great energy and the desire to teach us to be women who are comfortable in their own skin. The Exotic Dancing part was just a jumping off point.
The video process itself was terrifying. When I was asked to tryout, I was taken back to High School cheerleading tryouts. Tryouts I had practiced months for but I never even came close to making the squad. I wanted so badly to finally make the squad. I did. It became a milestone in my life. I met 8 of the most beautiful, admirable, inspiring women, who became my teachers, my supporters, my friends. Together we've created a squad like no other!
The video gave me an opportunity to shed fears, phobias and issues that I had made peace with but never really wanted in my life. The gawky girl with straight hair and braces fell to the background and I began to replace her with a sensual, beautiful, confident woman. Some days I look in the mirror and wonder where I have been hiding. The changes it has brought about are endless. I find myself more often saying "no", so as not to overburden my already chaotic life. I am surrounding myself with people who help me grow, not those who suck the life force from me. I find myself striving for what I need and what I want. I am making choices without asking for permission or for approval. All this, from a spur of the moment class and a video project? Yep, it was the start…I had all the pieces, AOED helped me to see it was okay to put them together and become a whole being. Now, I am still a wife, I am still a mother and an AOED instructor. I feel that I am better at all facets of my life because I have started to believe in me.